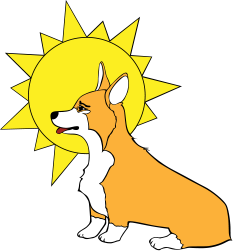 Breeder Referal
Breeder and Puppy Referral
spwcc.referral@gmail.com
Sharon Lofley, Coordinator
Looking for a Corgi?
The Pembroke Welsh Corgi is a smart, lovable, happy breed. You want your pet Corgi to live a long, healthy life and to be cheerful, well adjusted and well behaved. In obtaining a Corgi from a reputable breeder, you are not only protecting your initial investment - you are assuring that you will have help and advice whenever needed to have the best experience possible throughout the long life of your new friend.
Here are some questions to ask the breeder to help you make an informed decision. (If you have young children, please read this article first: Corgis and Children, http://www.forpaws.org/articles/children.htm).
Can you tell me some of the qualities of the PWC? Can you tell me some of the negative characteristics? A good breeder should be familiar enough with the breed to describe its traits and conscientious enough to help you decide if the breed is right for you.
Are the sire and dam tested for genetic defects? THIS IS VERY IMPORTANT! Inherited diseases can appear in the Corgi breed. To avoid costly and painful conditions later in life BOTH parents, grandparents too, should be tested by qualified technicians. Insist that the parents be x-rayed and evaluated for hip displasia by the Orthopedic Foundation for Animals (OFA). Don't accept the statement that "We never have problems with our breeding stock". Many serious problems do not show up until after breeding age. Some problems may not show up in the parents but can appear in the puppies. There are several eye problems that can affect the Corgi, so the parents should be examined by a veterinary ophthalmologist and the results certified by the Canine Eye Research Foundation (CERF). There is NO reason why a breeder should not provide you with a copy of these documents. Many breeders also test for a bleeding disorder called von Willebrands Disease (vWD) and will be glad to show you the results of these tests.
Do you guarantee against these diseases when the pup reaches maturity? A responsible breeder may replace an afflicted puppy, or refund full or partial purchase price. Do not accept verbal assurances, have ALL guarantees in writing. Breeders who have carefully bred their dogs are not afraid to guarantee in writing. Good breeders are happy to take the dog back at any age if you can no longer keep it.
Have puppies had inoculations and worming? Puppies should have had their first shots and wormings. Even mother dogs that do not test positive for parasites can have puppies with parasites. Puppies should also be guaranteed against infectious diseases. In Florida, the law requires that all puppies be at least 8 weeks of age and have a veterinarian's health certificate when sold. This applies to private breeders as well as puppy stores.
Do you require your pet puppies to be spayed or neutered at the appropriate age? A breeder who answers "yes" to this question is a responsible person who knows that your companion Corgi will be healthier and may live longer when spayed or neutered. Breeding Corgis is difficult, expensive and sometimes dangerous. The breeder will not want you to endanger your pet.
Do you belong to a national or regional breed club? Breeders who belong to these clubs adhere to a code of ethics requiring them to be conscientious and honest. They have more experience and have access to information on their breed. They can refer you to other good breeders. You can be assured that these are not puppy-mill operations or backyard-breeders.
Can you tell me about the grandparents? A puppy is more than a product of its two parents. Health and personality traits will be inherited from other ancestors. A good breeder takes this into account. Here is where your puppy will get its looks, health and temperament - do ask about the personalities of all of its close relatives!
Were the puppies raised in the house? House-raised puppies receive much better socialization and will bond to people better. They will already be accustomed to normal household sounds and activity. This is another important factor in developing a puppy's personality. Have they had any training? Sometimes housebreaking and crate training have been started and if you are lucky leash training will be in effect, too. This makes the transition to new surroundings easier for the lifetime of the dog.
Do you offer any help and literature on training and other things? Good breeders are happy to help with these issues.
Be suspicious of a breeder that tells you "none of these things are important because I only raise pets".
ALL pets should be free of pain and emotional problems.
Be suspicious of the breeder that does not ask YOU any questions!
Good breeders want good homes for their puppies.
Obviously pet shops cannot answer these questions.
Do not try to "rescue" a pet-shop Corgi, the store will just order more from the commercial breeder.