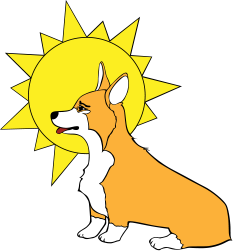 About Our Club
Next Meeting
Annual Meeting & Election of Officers.
Saturday, June 19, 2021. Tampa - Florida State Fairgrounds
The Pembroke Welsh Corgi breed is represented in Florida by the Sunshine Pembroke Welsh Corgi Club, an affiliate of the Pembroke Welsh Corgi Club of America which is a member of the American Kennel Club. Our membership consists of households who own and love Pembroke Welsh Corgis. Many of us show in conformation and performance events such as obedience, agility, herding, and tracking. Some members brighten the lives of shut-ins and elderly nursing home residents with their Corgi Therapy Dogs. Some of us breed our dogs from time to time. Quite a few of us help with rescue in Florida which is designed to take care of Pembrokes who have lost their families, and need help to make a fresh start.
There is little difference in price between "show" puppies and "pet" puppies from responsible breeders. All the puppies come from the same carefully planned mating, with parents who have been screened for genetic defects that might be passed on; they are all raised with the same loving care and experience; they are all guaranteed with the same pride and concern. An older dog evaluated as show quality by its breeder could cost thousands of dollars, but puppies can only be designated as having show potential. There will always be an agreement to spay or neuter a companion puppy, and the breeder will supply the AKC Limited Registration. This makes the dog eligible for all performance events, but not for conformation shows, and not for breeding. Please be aware that serious breeders consider the companion dog to be just as important as a prospective show dog or performance dog and the same high standards for the buyer will apply!
When you express an interest in our breed, we would like to help in any way we can as you learn about our breed and possibly arrange to bring a Pembroke into your home. We would like to know about you and your family - are there children in your home? What are their ages? Are there other pets? Have you ever owned a dog? What breed? What happened to your last dog? Do you live in an apartment, a condo, a house? Is there a safely fenced yard for the dog? Might you have an interest in showing or training? How did you become interested in the Pembroke?
Club Objectives
The objective of this club shall be:
To encourage and promote quality in the breeding of purebred Pembroke Welsh Corgis and to all possible to bring their natural qualities to perfection.
To urge members and breeders to accept the standard of the breed by which Pembroke Welsh Corgis shall be judged.
To do all in its power to protect and advance the interests of the beed by encouraging sportsmanlike competition at dog shows and performance events.
To conduct sanctioned and licensed specialty shows and performance events under the rules of the American Kennel Club.
The Club shall not be conducted or operated for profit and no part of any profits or remainder or residue from dues or donations to the Club shall inure to the benefit of any member or individual